Hello Guys,
today I want to talk about the fantastic theatre my grade and I had. I want to talk about this, because it was a great day and I thought that this theatre or show was pretty funny so I'd say I'll start right away.
When my parallel classes and I had finally arrived in our assembly hall of the Leibniz-Gymnasium, we sat down and waited. On the big stage in front of us was a homemade room which looked like a wash house for clothes. But I think we in Germany don't know it anymore, because it's actually only in America. Anyway, a few minutes later a man, named David came up on stage and was interacting with some kids from my grade.
After he talked with us for a while, he started the show. But then we noticed that there was also a girl, playing with him on stage. Her name was Gwen.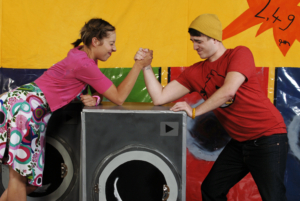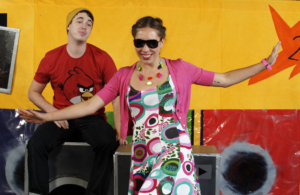 The story started with Gwen. She was reading a book about "United Kingdom's next Topmodel" and she told us that no one is coming to the wash house anymore, because nearly everyone has a washing machine at home. After she said she wants to be like the girls in the "UK's next Topmodel" show a guy who was looking like a trucker showed up to wash his clothes. He was only sitting there for like 1 minute but then the girl came to him and wanted to talk about smartphone apps like Tik Tok, Instagram, Snapchat, Twitter and Facebook. But the man named Jason doesn't want to talk to her. After Gwen talked a while with him, he was pissed. Finally, the girl got an idea for the boy to talk to her. She saw that he was playing Pokemon Go and then they sang together the Pokemon Go theme song and they were happy for a short time. Then he sat down to his seat. After Gwen tried to talk to him again he stood up and said that she needs to shut up. She went away and was also pissed. Jason noticed that and asked us what he should do. Some of us said sing a song, do a backflip to impress her and so on. But he thought that dancing is the best way to make her laugh and … he danced … and … she laughed. After they talked for a while she wanted to kiss him, but in the exact moment the laundry rings, so they weren't kissing. At the end the girl gave him her mobile phone number and they were chatting with each other.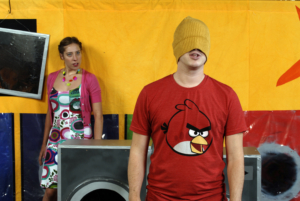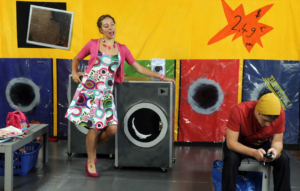 After the show we were able to ask them some questions, like where are you from or if they have any pets. All in all it was a very great day and a very nice time with Gwen and David from Scotland.
Written by Lennic Holten (Class 9c)